Pompeii Regio V(5)
Plan of Insulae 1 to 7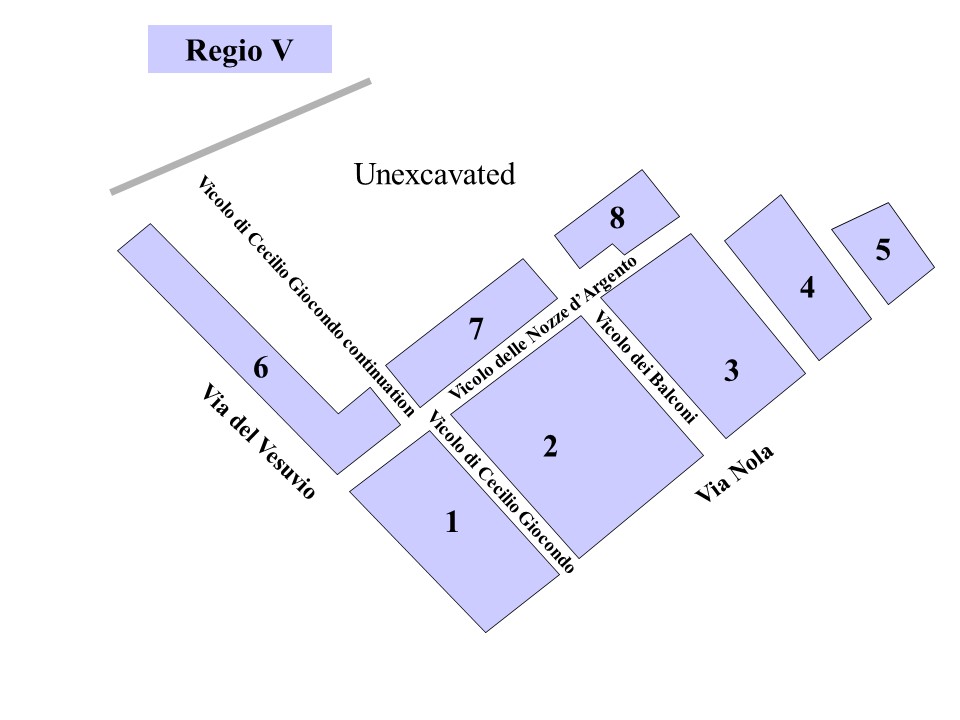 Pompeiiinpictures plan of the Insulae of Pompeii Regio V.
Each insula has a specific plan on our site showing the entrances with links to information and photographs.
The plan also shows the areas under excavation in 2018, details of which can be found in the individual insulae and streets pages.
If your screen is large enough (320px wide or greater) press the insula you want on this plan to go to that insula.
If you are on a smaller screen such as a phone or tablet you can use the links below to see the insula plan.
New excavations
New excavations began in 2018 in Regio V.
These areas are not open to the public and so we do not have any photos but here are links to some of the press and soprintendenza photos of these areas.
These are not our photos so to use these photos you will need to obtain permission from the respective owners.
Pompeii celebrates 270 years since its discovery with new excavations
48 photos of Regio V (cuneo/wedge) excavations and House of the Silver Wedding

New Pompeii district to be uncovered
New Pompeii district to be uncovered using drones, lasers and virtual reality
New findings in Pompeii paint vivid picture of ancient Roman life
New findings in Pompeii paint vivid picture of ancient Roman life
Soprintendenza photos
Amore e sensualità negli affreschi della regio V
Love and sensuality in the frescoes of Regio V
Amphorae stored
Preserved amphorae emerging from the ash
Preserved amphorae in the ash
Thermopolium with counter painted with nereid and shop sign
Finds
Finds from the excavations
The new discoveries in Regio V - Gazetta di Napoli